Why o' why all cool bands break up ?
Shiroberi? Did you know that there has been berries also outside Hello! Project. And those berries tasted totally different. Let me introduce you another favorite band of mine.
Once upon a time in Hokkaido there were five close friends that played punk oriented rock together. Those elementary school girls formed band in 1994 and named it Whiteberry (Shiroberi). They did some local gigs every now and then until Judy And Mary, another fave band of mine, discovered them and Whiteberry was signed to Sony in 1999.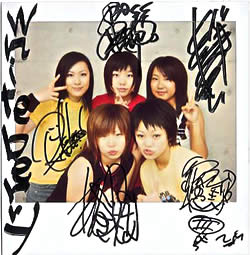 Whiteberry managed to do only 2 full lenght studio albums (Hatsu & Chameleon), one ep, several singles and 3 dvds during their five years Sony contract. Finally Whiteberry was disbanded in 2004 by collective agreement because four out of five girls were heading to college. Whiteberry did it's final concert in Hokkaido in March 2004. After band's break up Sony published Whiteberry's compilation cd Kiseki & dvd Videoberry Final.
Whiteberry's line-up was: Yuki Maeda (voc), Aya Inatsuki (guitar), Yukari Hasegawa (bass, my fave Shiroberi girl), Rimi Mizusawa (keys) and Erika Kawamura (drums). Most of Whiteberry's recorded songs were written by girls themselves. I think Natsumatsuri, Sakura Namikimichi, Yuki, Akubi and Kakurenbo are best known songs from this energetic band.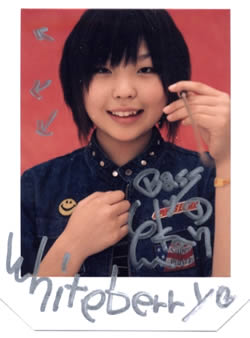 Whiteberry's music was a combination of fast loud punk rock and catchy pop tunes. Their first songs were more pop & fun but when they grew older band's music changed towards darker nuances. I liked both sides of Whiteberry. They were real band with real girl power attitude. Although this band was so good it never reached to major success. I think their music was too alternative to find it's way to j-pop charts. Maybe Whiteberry was too rough & noisy or maybe their big record comapny just wasn't active enough when promoting them.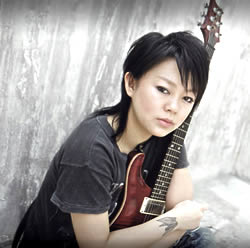 After Whiteberry Yuki (or Yukki, as Japanese write her name) has been working with her new band. Not a surprise that there is a taste of Whiteberry in her new songs. Yukki has published one single 東京 (Tokyo) and one ep 卒業 (Graduation) so far. She also contributed Tribute to Avril Lavigne album project with Losing Grip song.
And the other girls, how are they doing? I really don't know. I guess they are going to college and I hope that some day at least some of them are making comebacks to music biz. While waiting for that miracle I can always be nostalgic and listen Whiteberry's CDs and watch those DVDs over & over again. And of course keep my eye on Yukki.