As we all who have eyes have noticed, the next marketing & media level Hello! Project has moved is called MORE SEX. After all it's a quite common way to quickly raise sales figures. Sex sells that's a fact. UFA's sales revenue was going down so alarmingly that something had to be done.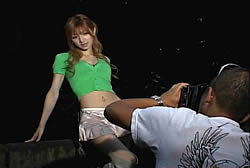 When ppl at H!P headquarters had done some serious mindstorming, their final conclusion was: Let's offer some more erotic eyecandy to J-pop consumers outta there. Must admit that it was a smart move indeed and the results you can see in Japan's charts nowadays. With Maki, GAM & Biyuuden H!P is reaching now new grown-up target groups. There is many music consumers that have bought their first ever H!P items just because they have seen reborn Maki, Rika or Ayaya on Music Fighter or other TV shows.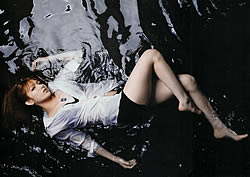 So all's well? Maybe, but lurking behind this sex boosted success there is a boredom. I really hope that UFA bosses do not loose they sense of reality. I hope that they remember there should also be good original music, catchy happy songs and kawaii images. I hope that they don't spray this new style all over H!P. I really pray that younger H!P artists like Berryz are kept away from that kind of marketing strategy.
When I earlier mentioned "lurking boredom" I ment that although (adult) sex is fun and interests almost all normal living beings, there is always a risk that it gets boring when taken/enjoyed in large continual doses. If we are gonna see Maki grabbing her boobies PV after PV, like she has done in two recent ones, it's not fun & exciting any more. Then she's just another disco chic doing her shake-that-thing. My humble opinion is that your real personality fades to background when you overact with sex.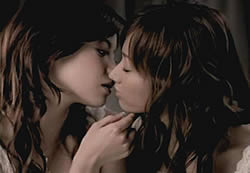 Sex is not my problem. Neither is Maki or anybody else. It's just that I am unsatisfied how things are being watered down, how music & images are turning to cheap articles that you can't tell apart.
But then again, in H!P's case, this is now and there is always tomorrow. This is only one leap in continuous evolution so I'm not that depressed. I still am Maki's fan and I still believe in Emperor Tsunku.
And, oh, if you ask me (probably you don't even bother to), I like GAM's Melodies (as a song and as a PV) more than Maki's Touch. However I love Maki more than Aya or Miki.
P.S. Here's an announcement:
From now on we have two blog writers here. Wu-san from Northampton, England has joined Kakko-ii.com Team. Say konnichiwa to him and prepare to visit more often to our front page blog.