Teary extravaganza
There sure was lot of teary eyes in Yokohama Arena last evening as Morning Musume did their final concert of Rival Survival Tour. Tears were flowing of course because this event was also a graduation concert for 6th generation member Eri Kamei and 8th generation Chinese girls Junjun and Linlin.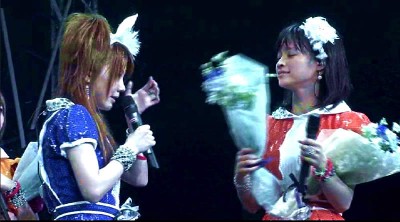 As I've been watching some video clips from this concert I must say that Koha's graduation was nothing compared with this one. Last eve was so full packed with strong emotions that I just kept weeping with the girls. Reina for exmaple is always so cool and iit's quite rare that she is crying or loosing her voice. But now she broke down and it was almost unbelieveable to see her sobbing that way. When you are watching Reina and Eri crying together I would be really surprised if you don't have any tears at that very moment. In a way it's not actually so surprising that Reina was crying because she, Eri and Sayumi are all 6th generation girls.
It was tough evening also for Morning Musume's leader Ai Takahashi. Like all others she couldn't keep her tears away and during the segment where graduating gilrs were giving their final speeches Ai-chan kept her head down and was just looking her shoes.
Maybe the most amount of tears were flowing down when sweet Sayumi Michishige were giving her weepy speech to Junjun. Uh. I guess I just love to cry with these girls. I too will be missing you very much dear Junjun!
As I've seen also a couple of songs Morning Musume did in this final concert my first impression is that Rival Survival was even more stunning than previous PikaPika tour. It's not yet announced when this graduation concert is released on DVD but I can already say that it sure is a must for all Morning Musume fans and it's already a classic like all graduation DVDs always are. As concert was broadcasted live in 3D format I guess there is going to be 3 different editions of this upcomng DVD: 3D, BluRay and of course normal version.
Vdeo clips from graduation concert:
Here's nice clip from JiJiPress
http://www.youtube.com/watch?v=oNfKFWqbSDU