Discussing Yossie and a battle cry, will television listen?
Quick thoughts on Yossie
The New Year is yet to blossom, but we've already been hit with the news that Hitomi Yoshizawa, Morning Musume group leader, shall be stepping down later on in the year. Though my initial reaction was that of shock, it's really nothing to get worked up about. She's fought it out like a trooper over the years, it's time for her to collect her medals of honour and, well, retire. Not quite, it seems Yossie will stay on in H!P after her graduation. I can't quite see her as a soloist myself, though her voice is decent enough it's nothing special. Even her –tomboy' attitude has taken a backseat and following in the footsteps of Morning Musume itself, become a rather boring affair. Don't get me wrong, I'm a fan of Yossie but really, she hasn't exactly dazzled us with anything lately. I'm not blaming her at all but rather stating how boring MM have been in general. Who knows what Yossie will do after? I'm sure many will speculate and many already have, it's not for me to say.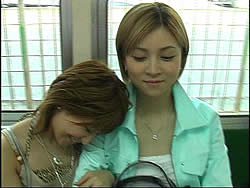 Whilst I'm upset at the prospect of Yossie leaving MM she deserves a break. Her weight fluctuations over the years are a good sign of the stress she's felt as an Idol. I won't begin to go into the details of why this may be; it could be very simple or equally as complicated. So labelling the problem –the pressures of fame' is an easy enough escape clause to use. Last year was a rather rocky time for H!P's mother ship and it showed. Although most of the defeatist opinions came from fans and not H!P headquarters, it's the fans that keep Tsunku's capital healthy. So these voices should be taken seriously, if the shoe fits, I think we all agree it does.
Anyway, it's a new year and another 12 months for Morning Musume to bring everything back to the boil. I think we all see the arrival of Aika as a sign of hope, she's got expectations on her shoulders and we're all guilty of putting those expectations there. I think if the tide starts to move with MM we could see a very good year for the newest addition. I would have liked Yossie to stay on, at least until Morning Musume are a little more grounded and stable. Even if she's just sitting in the background she's always a welcome and familiar face to see, and I think we all feel as if a part of MM's past is with us when she's around. That's what you get if you hang around long enough. But pleading for her to stay is pretty selfish, like I said, she needs a break. Still, the timing of her graduation still leaves me a bit puzzled. With Aika coming in I would have thought Yossie leaving at the end of 2006 or the beginning of 2007 would have been better suited for the fairytale –fresh new start' angle. And for the die hard Yossie fans out there, maybe even the end of this year.
What I hope to see from the media
Aika's maiden appearance on Utaban is something I am looking forward to. Even though the relationship between both camps has been hit and miss with recent MM the love is still there, it just needs to be reawakened (I tried to tackle the issue in an earlier blog, emphasis on –tried'). Let's hope Taka-san will take her on as one of the Idols he wants to date when they turn –20' (that was always a funny angle). Apart from his loyalty to Mikitty, the only palatable member left in MM for the feisty host is Sayu in my opinion and frankly, I think they scare each other. Hell, Sayu could always try and win over Nakai-kun as it's always great to piss him off.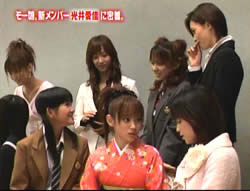 Downtown of Hey Hey Hey can just keep doing their thing, maybe more regularly than recently. Though it has to be said, they're a little –hands on' sometimes and whilst it's not always physical abuse, these guys can be pretty scary. TV spots like Dokyu and Futarigoto were always welcome. Though it's fair to say some were more interesting than others, down to who was on it if we're being honest. Do we need another round of these spots right now? Probably not, but fans won't care about that. I'm sad to say the days of Mari crunching on ice for twenty odd minutes has long gone, but I'm sure there's enough interesting things to talk about and do, or not do on Dokyu or Futarigoto. There are other shows and such out there like –Fun' for example who I'd like to see get their hands dirty again. As for Hello! Mornings, I get the feeling standards are dropping in that department to. I'm still waiting for Taka-san to appear on the show. Maybe it's best for everyone if that never materialises 😉
What am I asking for exactly? Just a little more effort from everyone involved. The situation is rarely as bad as we'd like to think, up until headquarters and sales statistics tell us otherwise. I personally think the situation right now is in the middle of speculation and fact. I recently listened to a radio rip of MM's 10 th anniversary single and was thankfully thrilled by it. It's not perfect by any means but it sways in the right direction. I like to use the term –grass roots' as it seems more familiar to past MM releases than it does newer ones. That's a very quick round up of the single, but it's not a review so forgive my poor explanation. On the whole though, it's a great single to start off MM's year.
So whilst I sit and wait to see how the year unfolds for H!P's catalogue of groups and projects, I'll be hoping for the best. It's the least we can do right?
[Note: Wu-San wrote this blog before those very sad news of Yossie's brother hit us.]