do they really make kung fu movies in Finland ?
Now when many of you have already gone completely wild with that latest movie version of "Sukeban Deka" a.k.a. "Yo Yo Cop Girl" I must tell you that there is also another must-see Kung Fu / Ninja (or whatever label you want to put on it) movie coming to it's premier. And what's amazing it's a Finnish production! First major Kung Fu film from Finland, my home country (up in northern Europe).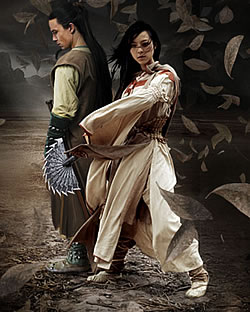 I've seen some short clips from this forthcoming movie and I'm positively surprised how it's been put together, how well it manages to catch this genre's style & tradition. You should know that we are talking about Finland where there is zero tradition with this kind of Far East oriented movie making. Finland's most known directors Kaurismaki & Harlin don't do kung fu movies.
"Jade Warrior" is a classic epic love story about – surprise surprise – battle between good and evil. It combines Finnish and Chinese mythologies into one film. There is shades of Finnish national epic Kalevala mixed with Kung Fu genre stuff. Jade Warrior is set in ancient China early iron age and present day Finland. The past is feeding the story in present day, slowly revealing our warrior his real origin, his superior skills and his destiny.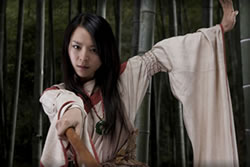 In leading roles there are Finnish actors Tommi Eronen & Markku Peltola with Chinese actress Zhang Jingchu. Jade Warrior is directed by Antti-Jussi Annila and this is his first long feature movie.
Jade Warrior's world premier is at Toronto International Film Festival in September 8th. I don't know yet when it's coming to your location (US, Europe, Thailand, Japan etc.) but if and when they show Jade Warrior in your country make sure to see it.