Angélique's Japan and Fandom
[Kakko-ii interviews – Episode 1]
She wants to introduce herself as an admin and translator for Airi Suzuki France (since 2010) and a video creator on YouTube under the name "Furansu GO!".
Many Hello! Project fans in the western world know her as a great fan of Airi Suzuki and °C-ute.
I saw her live at °C-ute's concert. The year was 2013 and the city was Paris. Back then girls from °C-ute called her to join them on stage in La Cigale live house. Girls gave her warm hugs and I believe she was in seventh heaven even weeks after that concert.
She is Angélique. And this is her story about Japan and special fandom.
JAPAN
What Japan means to you?
The place where I belong.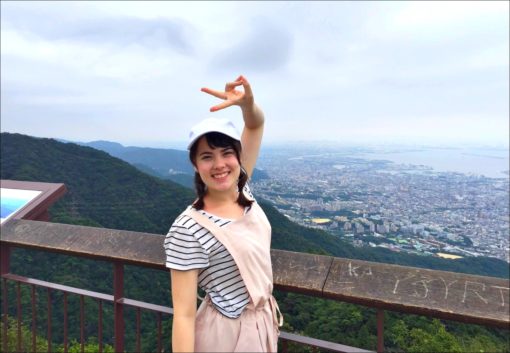 What kind of things got you interested in Japan in the first place?
I started to know about Japanese culture through anime, when series like Saint Seiya and Dragon Ball or even Grendizer were getting popular in France. But still I was not really interested in Japanese culture. Then I discovered Hello! Project Kids through my godfather, fell in love with Airi Suzuki and tried to learn Japanese to talk to her one day. Through learning the language I learned many things about Japan and this is how my passion began. If I had not met Airi, I do not think I would love Japan as much as I do today.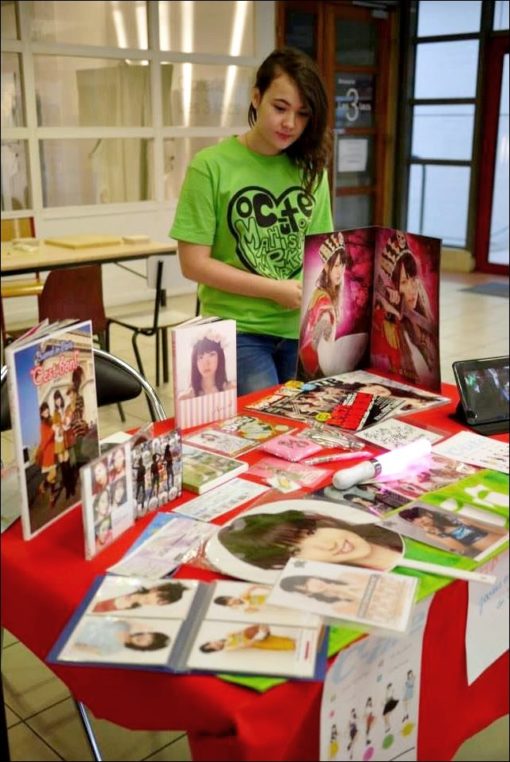 You were living in Kobe roughly about an year. Tell us about your ups and down from that year.
I did not really have any difficulties there besides the usual daily life's existential thoughts and bad days everyone has. Before going there I was stressing out about money and could I easily find a job. In the end everything turned out great so it was a very fruitful year for me.
At first I was worried about if I could make friends or not, because a lot of people who lived in Japan or are living in Japan are talking about the difficulties making friends with Japanese people. Fortunately I made some friends through my job like coworkers and even customers.
So you had a job in Kobe. Tell us about it.
I worked full time at a karaoke. At first I wanted to work in a language school to teach French, but I thought working at a karaoke would be even better to put on my C.V. for when I come back to France as that job was more polyvalent. Depending on the shifts I was working at the reception, guiding the customers, at the cash register, serving the customers, cleaning the shop & room and I did even some cooking! It was very fun job.
Besides that I was also modeling for an onsen resorts company Yukai Resort and for a karaoke company Janbo Karaoke. I appeared in magazines, on TV CMs and did shootings in a lot of prefectures of the Kansai region.

LIVING
Living in big cities is quite expensive. How you managed to stay alive there?
Well in Japan contrary to France, I could decide of my own shifts so if I wanted to work more in certain months (to save more money) I could ask for it and work overtime. That helped a lot. I did not really spend a lot besides the usual (rent, groceries etc.). I also went to some idol events and did some trips. Through the year I discovered a lot of tips on how to save money.
Angélique's video about saving money (English subs)
What kind of flat you had and how much was the rent?
I had a 1LDK apartment near the Mount Rokko . The rent was about Yen 80.000 (~656 EURO, ~700 USD) but as I moved in with my boyfriend the rent was divided by two. We did not have the cable TV and internet was about 40 USD per month because we wanted a high-speed, otherwise net would have been cheaper.
Angélique's video about her flat in Kobe
https://www.youtube.com/watch?v=4mAfLv7WhPQ
How would you advice people who are thinking about going to Japan and would like to work there?
It's a pretty difficult question. I'm not capable of giving advices to people who would like to work there in an office or such places as I don't have any experience from those.
But if someone, like me, is going there for a shorter stay like one or two years or even few months… The main advice I would like to give is to enjoy their life there. As I had to save for my comeback to France, I unfortunately had to work a lot, sometimes 50 hours per week. And even though my job was fun I couldn't travel as much as I would have loved to. I understood this too late 3-4 months before I came back. Now I regret it. So do not concentrate so much on the job, concentrate on the experiences around, people you meet, places you could travel to. Don't worry all kind of things but enjoy yourself!
LANGUAGE
How and where you have been learning Japanese?
By myself! As I said, I tried to learn Japanese to be able to talk to my favorite Idol Airi. So I learned by watching her videos, trying to learn the lyrics of the songs she was singing. At that time it was very difficult to get videos and any content about Hello! Project when you were living outside Japan. Time passed and the files were more and more shared and translating teams were created which was very useful thing. When I grew older I started to learn hiragana/katakana and kanji by myself as well as grammar.
In 2013 I entered university to learn japanese. Unfortunately the course wasn't good enough and I think it didn't help me to improve my skill. So I spent more time at the library doing my own grammar and vocabulary lessons and working part time to save for Japan instead of going to classes.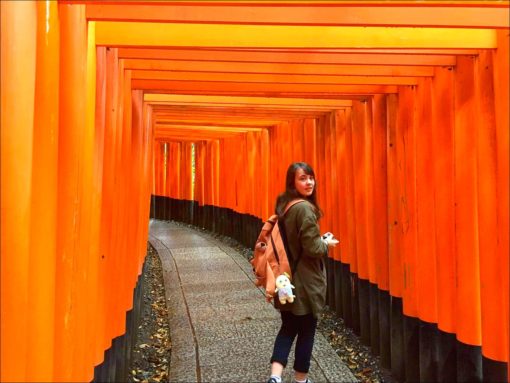 How are your Japanese language skills today?
I'm JLPT 2 now, so I guess skipping classes was the right choice for me at least. I'm good orally but my kanji reading is horrible. So even though I keep struggling I try to read more and more to improve my skills.
How you see, is it fundamental to learn Japanese before you aim to go there for a longer stay?
For a longer stay, yes I believe so. Not learning Japanese nor knowing the basics will just be enough if you're there for a short period of time. You will get through with gestures, some vocabulary and your personality. But when you want that Japanese understand you, getting on with your daily life and you want to create deeper relationships then I believe you need to learn more than the basics.
I've found out during my short vacations in Japan that Japanese people are quite shy to communicate with English. Why is that so?
There were a lot of customers at work or even random people I met at shops who talked to me in Japanese. But sometimes they spoke English or even French by telling me sentences or words which was pretty cute. I do not know if it's a Kansai/Kanto difference, but I've never met anybody who was too shy to tell me something in English in Kobe or even in Osaka.
FANDOM
Can you still remember when, how & why you became a °C-ute fan?
Well as I said, I got to know Hello! Project through my godfather who was a Morning Musume. fan back then. I remember it was around Morning Musume.'s "Koko ni Iruzee!" release he showed me Hello! Project Kids footage and I got interested in Airi. I started to follow her and naturally I became an Aa!, °C-ute and Buono! fan.
Before °C-ute was there any artists and/or groups you were following? Japanese? Western?
I grew up in a family who loves rock and metal, so I was following groups like Queen, The Rolling Stones, The Beatles, Slipknot, KoRn and artists like Marilyn Manson and David Bowie. So pretty different from Japanese style and especially °C-ute.
You are going to Japan for °C-ute The Final, aren't you?
I am of course!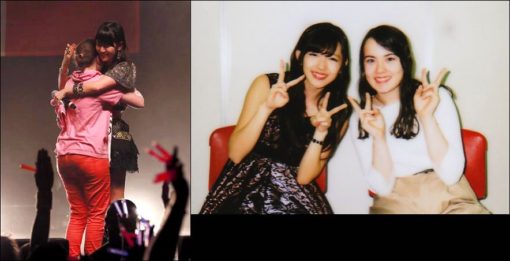 How you felt when you heard the disbandment of °C-ute?
It was not even two weeks before I come back to France and it was morning hours when it was announced. I was coming back from my last party with my soon-to-be ex-coworkers, so it was a very big emotional rollercoaster. Like a lot of Japanese people I saw it at 3 am on the newspapers. I was so depressed that I did not talk at all during that day. Suddenly at 11 pm I went to karaoke alone and for 4 hours straight sang the whole °C-ute discography available at karaoke. I felt better after that.
How you feel now?
Now, I'm feeling alright. I really believe that those news wasn't meant to be announced like that though. I believe the media got the info before the agency wanted to release it. That's why it was so rushed. I'm very depressed thinking I would never be able to meet the members during individual events, talk to them and say thank you at least one more time before they disband as I won't be able to go to Japan before the beginning of June. But I want to do my best to support them until the end and even in the future. °C-ute is and has been a really really big part of my life and I believe they deserves to be happy and find their own ways, so I can't wait to see what awaits them!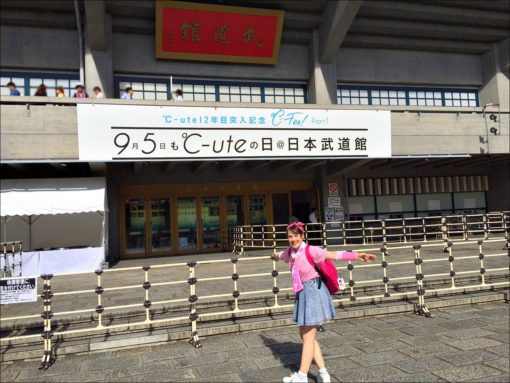 About fandom. My so very old parents said once that when I grow older I don't listen anymore punk, rock & J-pop/rock. But I'm still and always a pop & rock fan. Is that the case also with you? Is fandom a life long "project"?
My family and especially my godfather always told me it was a "phase", even though it's been 15 years now. All of them are very surprised I'm still supporting Airi, and still liking these "Japanese girls". It just became natural for me to support Airi and °C-ute, as it was the only thing I continued through my whole life until now.
I was a Berryz Kobo fan 9 years. After Berryz I've found for me new girls to admire and follow. What about you? Is there fandom for you after °C-ute?
Unfortunately I never liked any other girl groups besides °C-ute and I think I will never do. These past years my interest for Hello! Project, and globally the Idol culture itself, has drastically dropped so °C-ute's depature will mark the end of my wota fandom. Besides °C-ute, the only Japanese group I followed was FUNKY MONKEY BABYS so I always thought I would support them after °C-ute's disband. But that group also disbanded few years ago. Since two years I've been supporting a boy band called Da-iCE which also is a 5 members group. I even went to a lot of their events during my stay in Japan. So I think I'll concentrate on them now on.
But hey, I heard there's a super great girl called Airi Suzuki who might be going solo. I think she's wonderful enough for me to continue dedicating myself to her for a long time to come.
Text: zush | Photos: Angélique's archive