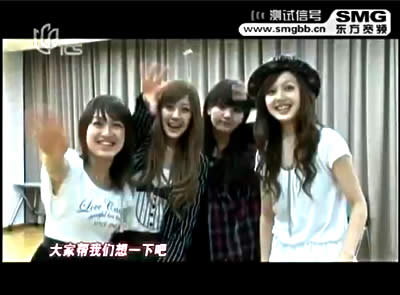 This is a bit surprising but also super cool news. It was just announced on Chinese TV show "Music Story in Japan" that JunJun, LinLin, Miyabi & Koharu are the new Hello! Project special unit. This quartet is raised especially for the Shanghai World Expo concerts taking place in Shanghai on June 22 and 23.
In this clip from the show JunJun and LinLin decided first to take Miya in the group and after that they all ended up asking also Koha to join with them. This special unit does not have name yet but JunJun already suggested that it could be MBK. Why not JKLM? Or SCC as Suppa Cool Chicks?
Anyways, there is already up  a web page @ Music Story's site where you can request a name for this special unit.
The next question is of course: What songs this quartet is going to sing in those upcoming concerts? And then: Is this unit only for these concerts or is it gonna live longer? I'm pretty hopeful that Up-Front International is gonna have those concerts recorded and later published on DVD.
And hey, great to have Koha back live on stage!
Music Story in Japan:
http://www.youtube.com/watch?v=qWov5JCBxhw