BABYMETAL takes the world by storm
What has happened since 2010 when BABYMETAL was founded? Little by little the group build themselves a cult status in Japan. Last year girls did some successful gigs in Japanese major rock & metal festivals and made their way also to Nippon Budokan. After a couple of normal and digital singles plus live DVD & Blu-ray box sets came finally out BABYMETAL's debut album in the end of February 2014.
All that didn't got much attention in the western world but then BABYMETAL released their live music video "Gimme Chocolate!!" on their Youtube channel and instantly it became a hit. Now (video was released on Feb 25. and today it's April 18.) it has been watched over 6,5 million times. As a long time BABYMETAL follower I'm happy to see how BABYMETAL is doing at the moment. It has also been fun to see how contradictory feelings they have been rising up here in the west. Those so-called serious metalheads are the best.
During their Nippon Budokan concert BABYMETAL annouced that their next stop is Europe. Now we know that girls are going to England on July 6. when in Knebworth there is held a metal-orientated Sonisphere Festival. We also know that there is gonna be more BABYMETAL concerts in Europe this summer but the dates for them are not yet announced. I already know that I'm not going to Sonisphere as I don't like festivals so much. But sure I would like to see girls in some other location. I still hope that they could come to Paris for exmaple.
Lately BABYMETAL has got nicely media coverage in western web and printed magazines. Popular metal magazines Kerrang and Metal Hammer have published one page stories about BABYMETAL but I think I made it even better. Latest Finnish Japanpop magazine (issue 2/2014) has my four page feature story about the girls. I was lucky to have also e-mail interview with the girls for our magazine.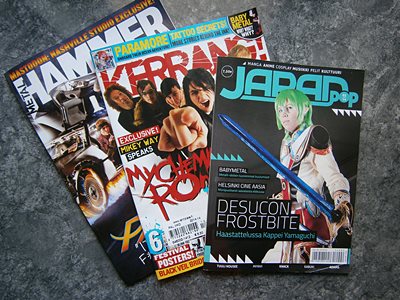 Kerrang (issue 1509 March 22. 2014) "BABYMETAL – THROW UP YOUR BUNNY HORNS FOR JAPAN'S CUTEST METAL ACT"
Metal Hammer (issue 256 May 2014) "METAL FOR DUMMIES – Babymetal have landed. Be afraid."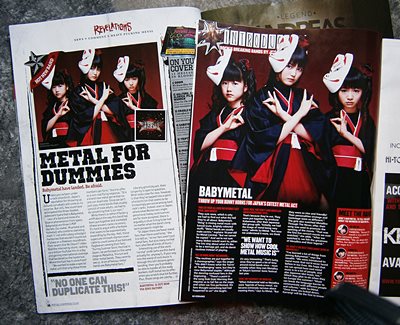 JAPANPOP (issue 2/2014) "BABYMETAL pistää päät sekaisin"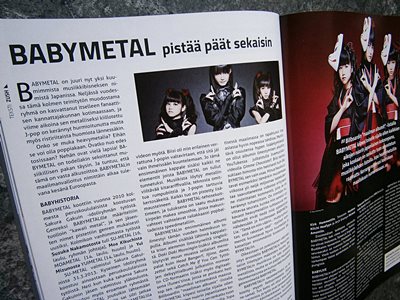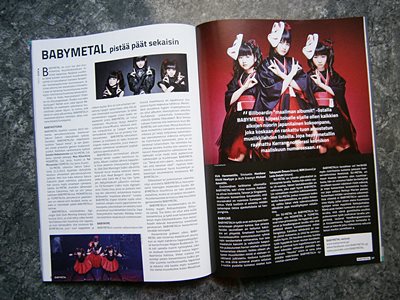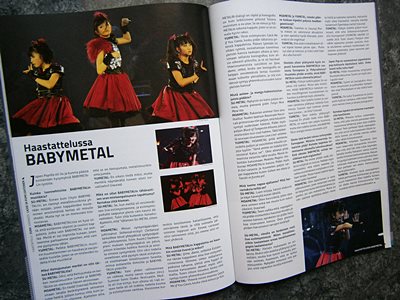 BABYMETAL: Gimme Chocolate!!
More BABYMETAL stories from the web:
TIME : Can J-Pop Band Babymetal Win Over Actual Metal Fans?
The Japan Times : Babymetal aren't the latest chapter in the –wacky Japan' story
The Japan Times : Babymetal "Babymetal"
The Guardian : Babymetal: Japan's rockers in knee socks
The Guardian : J-pop meets thrash metal in Japan's latest music phenomenon
City Times : –Kawaii' metal goes viral
BuzzFeed : 11 Girl Groups From Around The World To Love Right Now
USA Today : Babymetal's video is the greatest ever – or the worst
The Daily Dot : Japanese teen pop meets death metal in an explosion of awesome
OC WEEKLY : What the Hell is Babymetal?
THE PARTHENON : BABYMETAL highlights cultural differences